04 Nov

Chihuahua's Favourite Toy Is Discontinued, So The Internet Steps In To Help

Here at Bold Beasts, we like to bring you the best animal-related news stories from around the world. This week, it's the turn of Jaxon, a distinguished old gentleman from Kentucky, USA, who happens to be a chihuahua.

Almost all of us have an item that we're inexplicably attached to, whether it's a childhood plush toy, a favourite sweater, or our first crappy guitar. Dogs are no different, as their owners will know, and often form a strong emotional bond to things that seem like junk to us.

This was the case with Jaxon, who has a huge attachment to his toy alligator, nicknamed 'Greenie'. In fact, it's the only toy he will ever play with.

Being Jax's favourite thing, it gets chewed on an awful lot, and therefore gets worn out from time to time. Whenever it does, his owner Kelli Brown goes back to PetSmart and gets him a brand new one. Because, after all, he's her baby.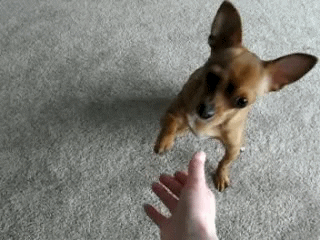 Well, recently she went back, and found out to her horror that the toy had been discontinued. Oh no! How was she going to explain this to Jaxon?
The Kentucky resident posted a plea to the internet, tweeting directly at the supplier PetSmart. Despite its many faults, sometimes the internet can be a magical place. A PetSmart employee in Texas, Kendyl Kercho, saw the post on Twitter and shared it to her employee Facebook group as well as hunted the aisles of her own store.
Luckily for Jaxon, it only took a search in another state to find his treasure. "I actually squeaked audibly when I found the clearance toy bin in the back where they were tucked away," Kercho said. "I immediately told my manager, 'These are the toys I've been looking for for my Chihuahua friend in Kentucky!'"
So, to cut a long story short, Jaxon is able to continue his love affair with Greenie, and it doesn't look like that will be changing any time soon.
Scroll down to see this heartwarming story unfold…
First, the appeal from Jaxon's loving owner:
Then, the sound of the internet's heart breaking in two.
The search gets underway…
A little rest time…
Jax finally gets 'reunited' with his best friend:
But that's not all…
]
Jaxon ended up getting much more than even his mum bargained for, but he couldn't be happier for it. With the amount of 'Greenies' that were sent to their home by kind strangers on the internet, it looks like Jaxon will have an everlasting supply of his all-time favourite.
All's well that end's well. Oh, and a word of advice for pet owners from this Reddit user:
Good advice. And finally, just incase you needed reminding:
They sure are, Mr. JoggingWithForks.
Follow Bold Beasts on Facebook for more like this!