12 Dec

Bold Beasts: Survivors Of California Wildfires Return To Find Their Beloved Dogs Guarding Their Home

As much as we love our own stories here at Bold Beasts, it's also nice to bring you uplifting stories of real animals around the world displaying heroism in the face of disaster.

One real-life bold beast is a Californian dog by the name of Madison, whose devotion to his home is going viral, after his owner found him guarding the property, weeks after the residence and the surrounding area was burned to the ground by Northern California's Camp Fire.

A home video shows Madison, an Anatolian shepherd dog, reuniting with his owner, 75-year-old Andrea Gaylord, on Wednesday last week. It was the first day she was permitted to return to her land in the town of Paradise, which has been decimated by the California wildfires.

In the aftermath of the fire in early November, animal rescuer Shayla Sullivan received a request to search for Andrea's two dogs, Madison and his brother, Miguel. Sullivan told the Huffington Post that when the fires broke out, Gaylord had just minutes to escape and flee for her life, and so she wasn't able to find Madison and Miguel.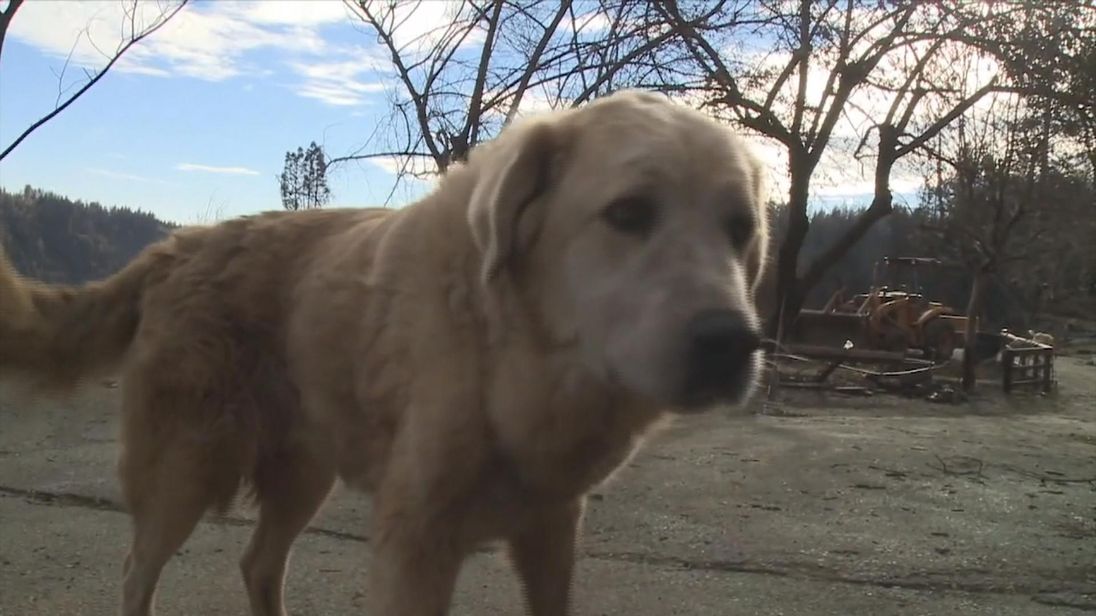 A different rescue worker managed to capture Miguel not long afterward, and he was ultimately reunited with Andrea and her husband. But while Madison's whereabouts remained a mystery, Sullivan had a hunch he wasn't too far away. She was regularly leaving out food and drink in bowls, and they had been consumed by the time she returned to them.
"The third day I went in there, I didn't know if my mind was playing tricks on me, but I felt like I saw a flash of white movement down in the canyon," she said.
As it turned out, Sullivan was right ― but it took more than that to get Madison to come out. When Gaylord drove up to the property the first day authorities allowed her back, it took "about five or 10 minutes" for Madison to come bounding up to greet her, tail wagging.
It's a truly heartwarming moment to witness, and will have been infinitely more so for both Andrea and her devoted pup. Dogs freak out if you go to the store without them, so one can only imagine how the dog felt in a situation like this without his loving owner.
Watch the news report video below:
Even more amazing was seeing Miguel and Madison reunite with each other. Miguel had been "so upset and so depressed" being without his brother and away from his home, she said.
"It was surreal to see them go back into, like, 'We're a team now, everything is OK, we got our people, we can go back to work,'" she said.
The dogs are currently staying on the property, with Gaylord's family making regular trips to make sure they're cared for. Sullivan emphasized that this is not a case of neglect or not being bothered – it's because the pair are working dogs who need a lot of space.
Gaylord and her family are living temporarily in a mobile home park, and having the dogs stay with them there, or in a kennel, is untenable. They will have to make do with the current arrangement, until their home is restored.
"These dogs are livestock guardian dogs, they do not do well in heat, they do not do well in small enclosures," she said. "They protect their property."
Madison's devotion was no surprise to Marlene Johnson, who owns Anatolian shepherds and founded the Facebook group Livestock Guardian Dogs and Positive Training Methods.
"Anatolian shepherd dogs are from Turkey and have been bred for thousands of years to protect and guard livestock, their property and their humans," Johnson said in her interview.
"Livestock guardian dogs like Anatolian shepherds are working dogs that are appreciated for their loyalty, their intelligence and their independent nature and Madison is a perfect example of a livestock guardian dog. He braved a natural disaster and went right back to where he belonged and stayed there until his owners and working buddy returned."
It's amazing that these dogs managed to survive those terrible fires, and then make their way back home. Sullivan's theory is that they managed to outrun the flames, and then circled back to their home when it was safe.
"They're survivors," she said.
Follow Bold Beasts on Facebook for more stories like this.